Equestrian sector leaps onto global stage
By ALEXIS HOOI in Fengning, Hebei | China Daily Global | Updated: 2019-11-05 13:47
[url=]

[/url]
[url=]

[/url]
[url=]
[/url]
[url=]

[/url]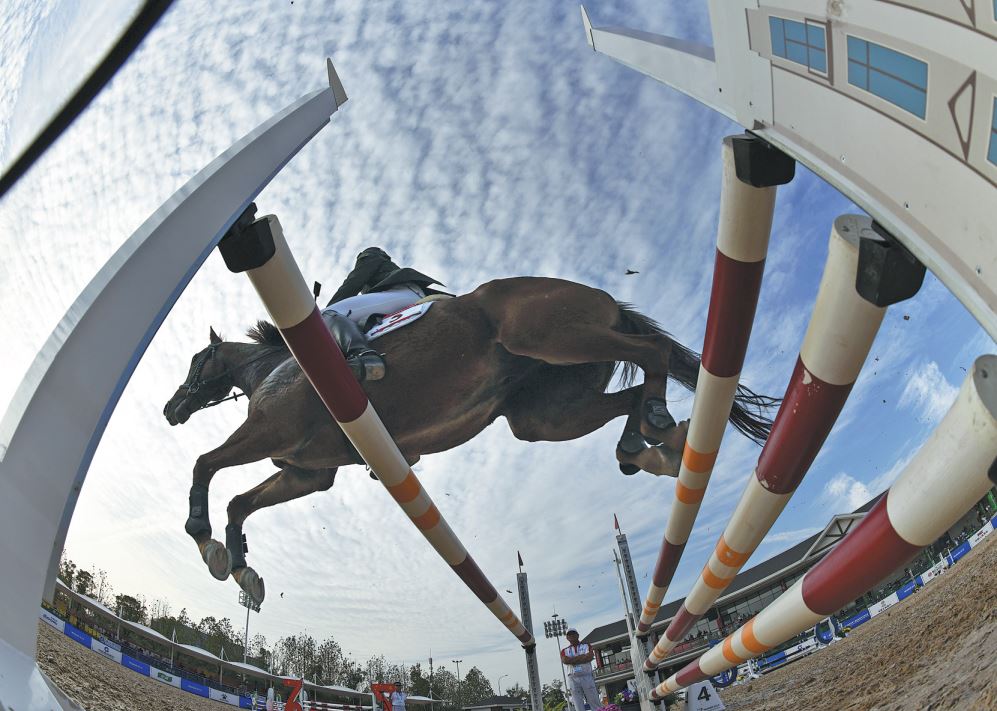 A Chinese equestrian team member competes at the Military World Games in Wuhan, Hubei province, on Oct 24, when Chinese competitors won top honors at the meet. LI GA/XINHUA

Horse-riding hub hosts popular form of sport attracting local, international competitors on back of growing interest at home

Living on the plains of the Baarin Right Banner area in the Inner Mongolia autonomous region, Arun Bileg has been riding horses since he was 6.

So when the 30-year-old ethnic Mongolian heard about an internationally recognized equestrian sport being introduced in China, he signed up immediately.

"Horse riding comes naturally to us. I wanted to see what it was like to compete like riders across the world, at a global level," he said.

At the end of last month, Arun Bileg emerged victorious among more than 10 compatriots from across the country taking part in a major two-day competition that covered obstacle courses, precision horse control and orienteering in the Fengning Manchu autonomous county of North China's Hebei province. Orienteering requires skills using a map and compass to navigate in diverse and unfamiliar terrain.

Known as TREC, the French acronym for the highly popular equestrian sport in the West, especially throughout Europe, this year's competition is the largest and most comprehensive of its kind held so far in China, according to organizers.

The Fengning event, following a similar one in Weifang of East China's Shandong province last year, also marks another milestone in the rapid development of equestrian sports and interest among members of a growing Chinese middle class looking for more sophisticated leisure activities, according to Wutzala, head of the China Horse Culture, Sports and Tourism Institute.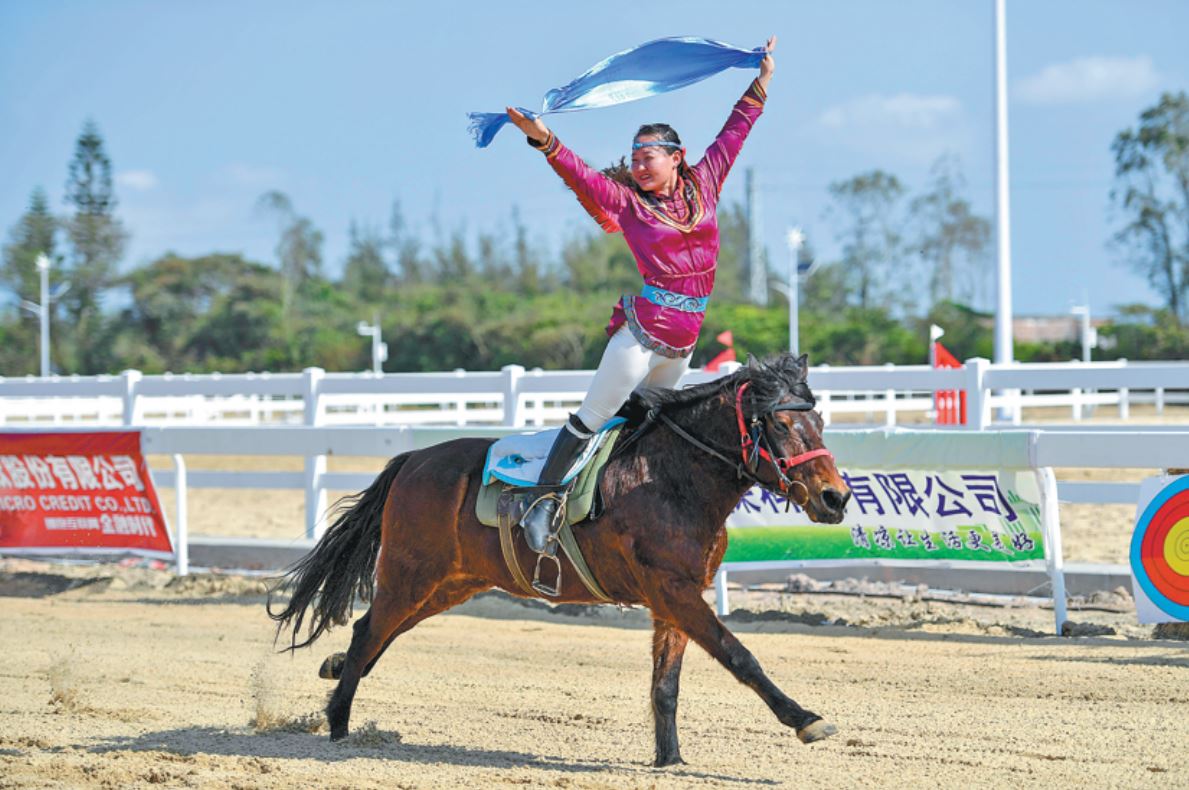 A performer at a February horse carnival in Wenchang, Hainan province. CHINA DAILY/CHINA NEWS AGENCY

Significantly, this year's competition also included an international division of 12 riders from nine countries and regions, ranging from Austria and Ireland, to Russia and the United Kingdom.

Thierry Maurouard, technical delegate of the France-based International Federation of Equestrian Tourism, the global governing body for the sport, said Chinese riders are on track for their next level of equestrian activities, with suitable incentives provided by local authorities and geographical advantages, such as the grasslands and hills of Fengning, which is about four hours' drive from Beijing, spurring the development of the domestic equestrian industry.

"The Mongolian horses here also are good for practicing TREC, they are not afraid of anything and can handle the natural environment easily. They just need to be trained properly for TREC. China can in two or three years build a team to go for international competitions in Europe. I have seen riders this time at a level good enough to participate," said Maurouard, who helped monitor this year's competition based in the sprawling, 1,140-hectare China Horse Town equestrian leisure complex, built at an investment of 8 billion yuan ($1.13 billion).

In a speech welcoming participants to the event, Wang Qingshan, the county's deputy head, said that the local authorities are certainly looking to support and push for the upgrading of the equestrian tourism sector through professional training and improved services.

"If you look at the ancient Silk Road alone, its global links were formed in large part on the back of horses. We now hope that, through such international meets, we can continue to forge solid networks via our cultural, sports and tourism platforms."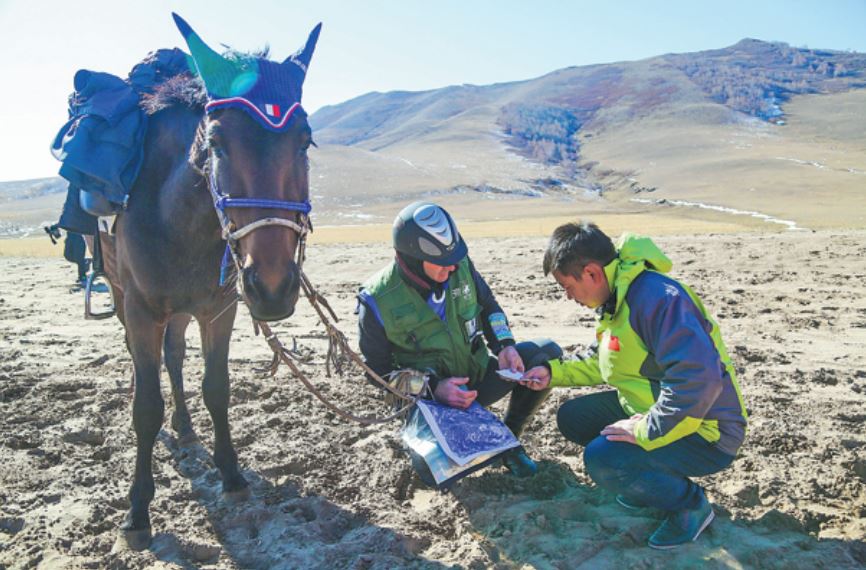 French champion rider Amanti Muller checks in with a TREC equestrian competition official during the meet last month.

US rider Mary Harcourt, who is also an international TREC judge and at 73 years old the oldest competitor at the Fengning event, said it was "the greatest adventure she could think of, to ride in China".

"The incredible amount of detail, hospitality, programs and performances ... just made it a real special event," said Harcourt, who comes from North Carolina and was instrumental in introducing TREC in her country in 1997.

While the sport in China still faces challenges such as map detailing for its orienteering segment, Harcourt said "the passionate horse people in the community "help instill confidence in its development.

"We have a big horse population in the US but nothing like what you have here. So you have what it takes to develop the equine industry, which will do TREC ... you already have the facilities".

Lotte Klitgaard Jespersen, 27, the event's youngest foreign competitor, said it was not only her first international competition but also her first time in China.

"The riders here with their ethnic attire and saddles... you experience a whole new culture and everyone is so welcoming," said the Danish laboratory technician. "The organization has also been amazing."

Frenchman Amanti Muller, a top international TREC rider who clinched first place in the Fengning competition, said the sport has already made impressive progress in the year since he took part in the previous meet in Weifang, where he had also emerged champion.

"The Chinese, their know-how and their hospitality for all the riders; for that, they are number one in the world," said Muller, 35, who owns horse stables in southern France and trains riders himself.

"You can progress very quickly in this field. For me, China can actually send a team to compete internationally as soon as next year."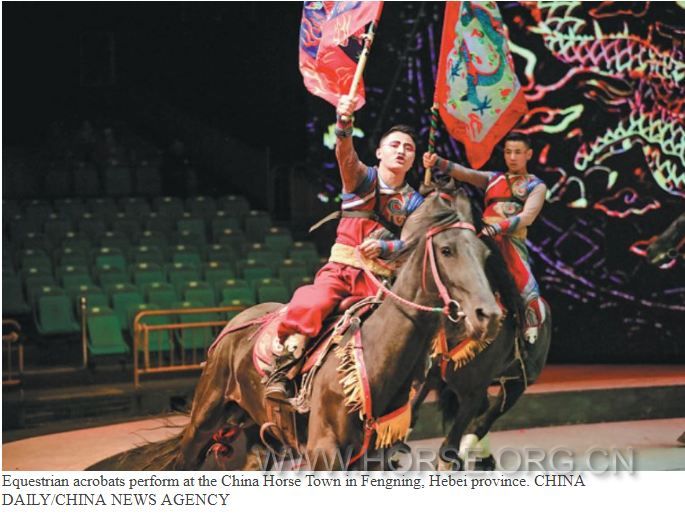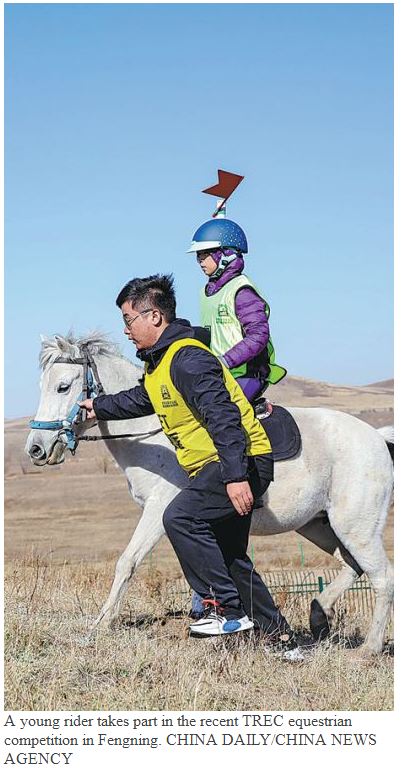 via China Daily